The Fransk kulturhus teaching team was already back from their summer holidays i July! Indeed, these last few weeks have been the beginning of a great adventure and a new life for 31 Norwegian students. They are between 15 and 17 years old, very motivated and getting ready to study for 1 or 3 years in a high school in France thanks to the programmes offered by Direktoratet for høyere utdanning og kompetanse (HK-dir) and the Institut français de Norvège (IFN).
A wide choice of programmes
For HK-dir and the participants for three years, three cities are the scene of these historic exchange programmes between France and Norway: Rouen (since 1918), Bayeux (since 1979) and Lyon (since 1989). Queen Sonja herself took part in the centenary celebrations of this cooperation in Rouen in 2018.
As for IFN, they offers two exchange programmes: the first year of highschool, and several professional baccalaureates in the hotel industry, crafts, fashion and digital technology, this year in the cities of La Rochelle and Ancenis.
Comprehensive preparatory courses
These weeks of preparation at the IFN are an opportunity for these young people to deepen their knowledge of French, and to discover the cultural differences between two educational systems. Yes, it is true that in France, all notes are taken on paper; students can neither eat nor bring their coffee in class; and the dress code is sometimes a source of surprise!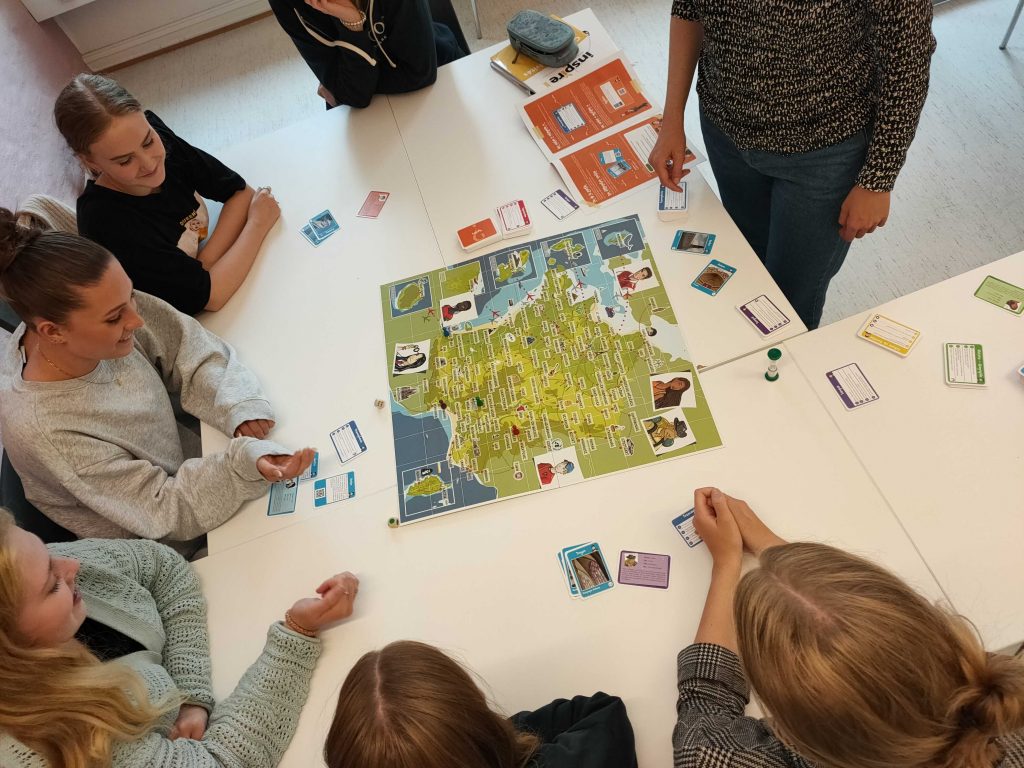 According to the immersion pedagogy dear to Fransk kulturhus, the classes are entirely in French from day one, whether the students have already studied French or not. Our teachers Camille, Tana, Anaïs, Eugénie and Morgane accompany their teaching with advice on how to succeed in high school, and answer the teenagers' concerns about life in France. The classes are held with joy and good humour, mixing exercises, board games and sometimes even recipes in the kitchen to learn in an effective and fun way.
In parallel, immersive activities are organised once a week for the students. This year, they were able to watch the film Damien veut changer le monde, and taste cheese, charcuterie and other delicious French specialities at the restaurant Frenchie at Solli Plass.
Life in France
Once in France, the students will spend their first year in boarding school during the week and with a host family in the weekends. At the end of their three years of high school, they will take the Baccalauréat like all French students (and often with the mention "Très bien").
The whole Fransk kulturhus team wishes them a very good start in France!
You can follow the students' journey on their Instagram accounts: https://www.instagram.com/norskseksjonene_i_frankrike/
Prepare your adventure in France now!
And for all those who would like to try this beautiful adventure and live this unique experience, put all the chances on your side with Fransk kulturhus which offers courses for all levels and all ages, physical or digital classrooms, a French library with cultural activities, creative holidays, official exams…! Welcome!
Take a look at our course offer or contact us for personalised advice.