Give your child the magazine they will enjoy receiving each month and which will stimulate their curiosity and joy of reading in French! The quality of Bayard/Milan Jeunesse magazines, a group with an established reputation, is guaranteed by the childhood specialists, psychologists and teachers who regularly collaborate in their production.
An age conducive to learning
We work with children and youth aged 0 to 19 on a daily basis in our classes (face-to-face, hybrid or online), French-language library, parent-baby groups, during our creative holidays and our edutainment, culture and arts activities. We love their curious, open and committed spirit and that is why we want to encourage their linguistic and cross-curricular learning through the joy of reading – at home with publications adapted to their age and level.
Ours teachers' best recommendations
You are not sure which magazine to choose? Don't worry, Camille, Tana and Anaïs, teachers of French as a foreign language (FLE), specialists in early learning in our courses for children and teenagers, will help you select the publication(s) best suited to your child's age and level.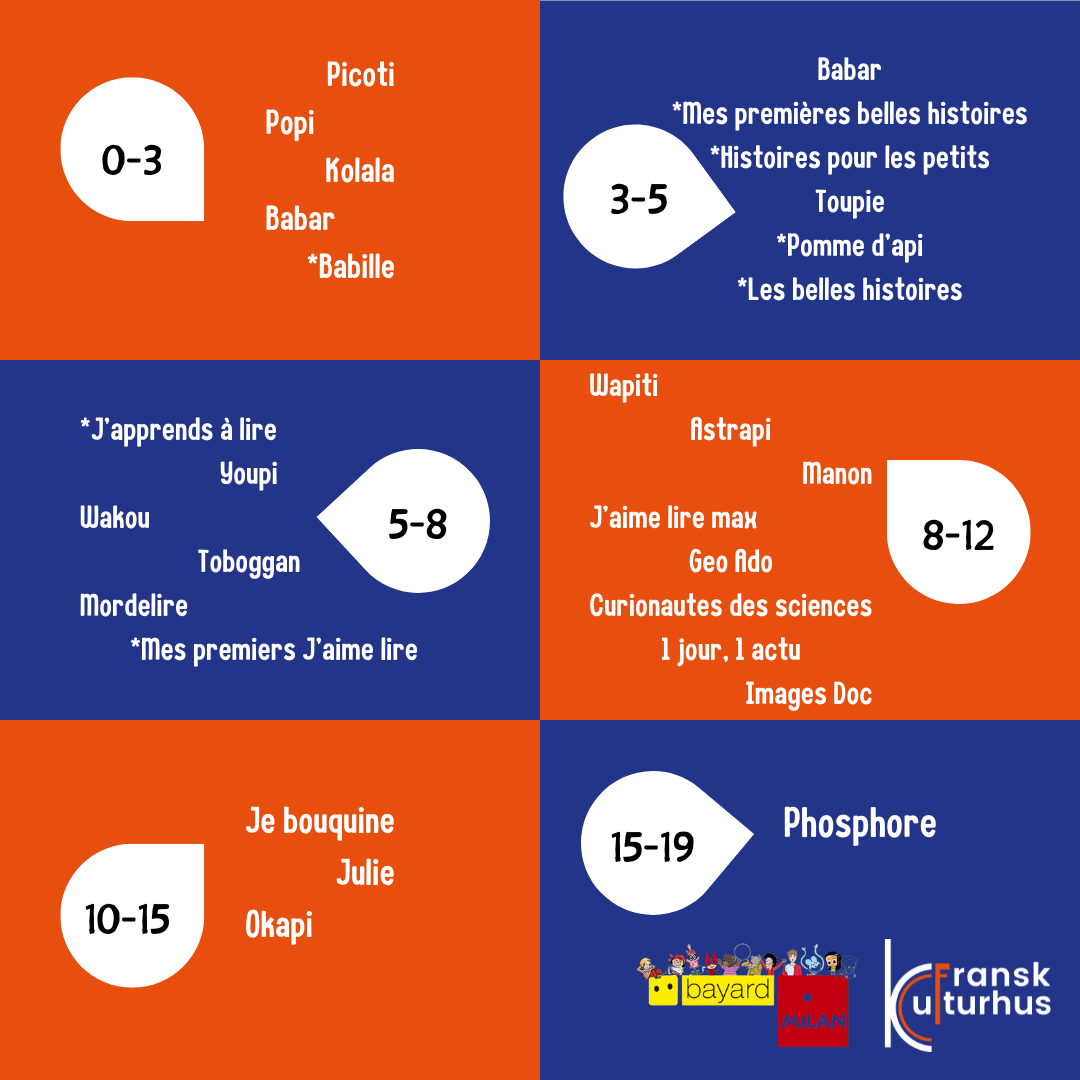 An outstanding offer for all
In collaboration with Bayard/Milan editions' representative in Norway, Myriam Nosul, we have crafted a partnership that allows our public to benefit from preferential rates with a very interesting discount compared to Norwegian public rates and Fransk kulturhus to receive free subscriptions that will enrich its French-speaking library and its cultural offer.
To subscribe via Fransk kulturhus, you just have to go to the Bayard Monde website, enter the delegate code E40, choose your magazine.s and send the confirmation to Myriam Nosul and Fransk kulturhus. The magazines will be sent to your home address. If you have any questions, please do not hesitate to contact Myriam who will be happy to advise you.
Useful information
Contact Bayard/Milan editions' representative in Norway:
View the publications:
Buy online:
Bayard Monde : https://boutique.bayard-monde.com
Code : E40
Confirm and follow-up my purchase: