We met with Laurent Benguigui, a chemist who became a cookery teacher and then a creator of board games, a long-standing friend and natural partner of Fransk kulturhus. This is an opportunity to look back at his career and more specifically his games, competitions and other fun activities that have found its public with many of our students and teachers.
(Fransk kulturhus) How did you come with the idea of creating the board game XplorGames?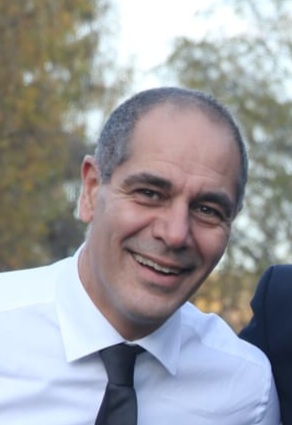 (Laurent)When I arrived in Norway 10 years ago after a career in international commerce in chemical products in France and Mexico, I decided to come back to my roots and to become a cookery teacher. Indeed, my father was an outstanding pastry chef and he passed on to me his know-how and the pleasure of eating well. At the same time, my curiosity has always inspired a certain taste for adventure, exploration around the world, travel and history. It was while trying to pass on these passions to my students that I realised that what I was looking for simply didn't exist, namely a fun educative resource to awaken their taste and stimulate their curiosity, all with a flexible and innovative sensory approach.
This is how I came up with the idea of creating a board game that would be both cultural and culinary. One day, I read that the Italians did not eat pizza before the discovery of the Americas because the tomato, originally from Mexico, did not exist in Europe at that time. The dynamics of the game then became obvious to me and the Xplor project was born, after countless hours spent on the design and production, not to mention long and meticulous research into the origins of everything to be found in a kitchen.
It is a family game that is a unique cross-curricular resource for stimulating curiosity and introducing children to the world (and worlds!)! My first Xplor game was about fruits and vegetables. At the request of my pupils, I later developed extension packs for animals and quizzes. To me, there is nothing more beautiful than making children smile. Watching them learn while playing my Xplor games is wonderful and will always be my greatest achievement
(Fransk kulturhus) These games are all about exploration, why this approach?
(Laurent) Who has never dreamed of stepping into the shoes of the intrepid explorers Christopher Columbus, Scott or Amundsen? To be the first to discover an unknown land or to venture into the polar world?
In my game, everything lays the title! You play the role of an explorer who has just arrived in a new, incredibly rich, world. The game really allows you to involve the child and make them an actor in their learning process by offering rich discovery experiences. By choosing one of the 22 greatest explorers in my two games – Xplor the Poles and Xplor the World – and embarking on a perilous adventure across the oceans, the Arctic or the Antarctic, children not only revise their history and geography but also ask themselves questions about the world.
​​The idea is also that the children understand, each time they play, the importance of the historical consequences of their own discovery! My game uses a two-sided game board, with the map of the "Old World" as it was drawn in 1507 on one side and the current world map on the other. In short, a rich and unique historical resource!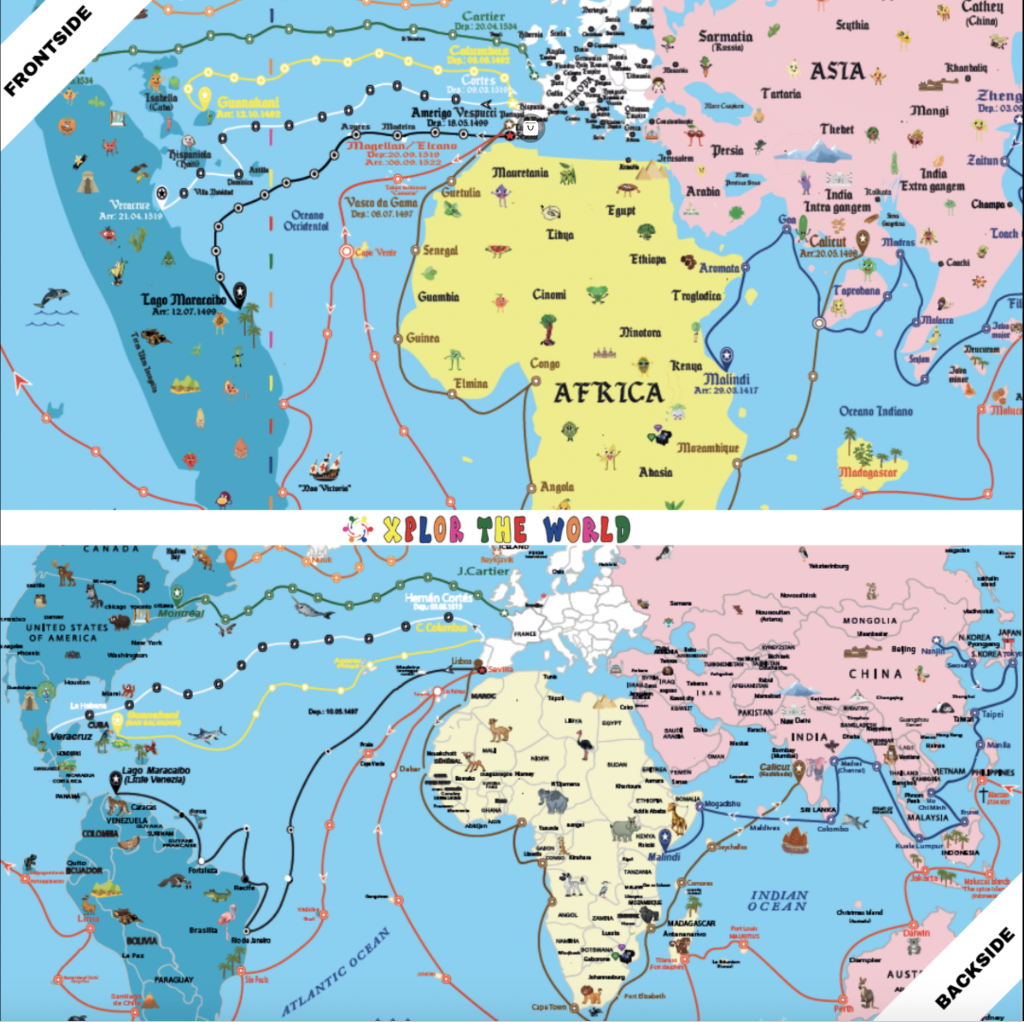 (Fransk kulturhus) For which age groups do you recommend your games? Is it for everyone?
(Laurent) Ideal for playing with up to 6 players (or 6 teams), the game follows easy rules for children aged 6-12. The Quiz version allows the game to be extended to a teenage and adult audience by making the games much more cultural.
The levels of play and the various extensions also allow for endless variety and bring the whole family around the table. Schools (kindergarten, elementary and secondary) as well as activity centres also use my game Xplor in class as part of edutainment activities.
I also offer original workshops using the game on several themes: the development of 5 senses and taste, the century of great discoveries in history and geography classes, competitions with quizzes in high schools, team building for companies and of course quiz nights in partnership with Fransk kulturhus!
(Fransk kulturhus) Your game has a significant educational dimension. What do the players learn from it?
(Laurent) What a better way for children to learn than having fun? The player moves with their boat on the world map and carefully follows the path of the other players in order to arrive at the destination first. Just like their chosen explorer, they take the time to discover continents, countries, capitals and meet different animals or local ingredients.
Let's take the example of the animals, for each animal, a detailed card describes its food, size, weight, speed… Very quickly, as the game progresses, the children ask questions and interact passionately about the animal world they discover. Finally, our little explorers also learn to listen to others, respect the rules, wait for their turn and manage their emotions when frustrated!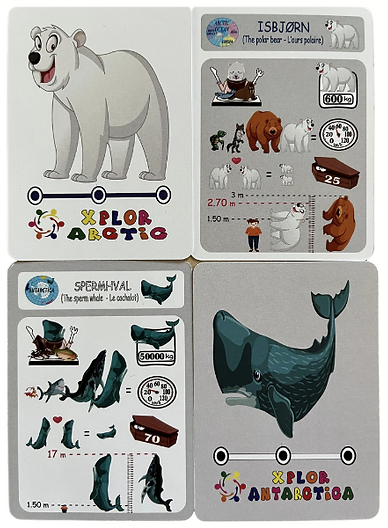 (Fransk kulturhus) How can we buy your game?
(Laurent) Simply online, via my website: https://www.xplorgames.no/shop And for all friends at Fransk kulturhus, a 5% discount with the special coupon code FKH. And if you have the chance to participate in the activities and events I host at Fransk kulturhus, I'll be happy to give you more tips and sign my game.